Written on December 5, 2008 by CincauHangus
While I recollect myself from what happened yesterday, I'll try to blog about something else as well.
Nov 27 was Zouk's Grand Relaunching. It had 3 words to sum it all up, a.k.a MMA. No, not MTV Music Awards!
Modified
Multiplied
Amplified
Zouk has been Modified with the latest in A/V equipment to give the best tetno, electro, house-etro, jazzitro, and every tro you can find out there. I think I saw about 20+ LCD TVs around the whole Zouk. Must be gazillions spent into it!
Zouk has Multiplied their rooms from 3 to 6 new rooms for different music.
Zouk a.k.a Main Room
Terrace Bar
Velvet Underground
Aristo
Phuture
Bar Sonic
Zouk has Amplified my clubbing experience for sure! Though I haven't been clubbing for some time since all the work I've been involved in.
So here's a quick introduction of the rooms.
Terrace Bar. No introduction needed here. If you've been to Zouk before, you'll know where is the Terrance Bar is. A good lounging area. I was there during Nokia IAC a few months back, enjoying to the sweet music by local indy musicians. Rocks my underwear off I tell you.
Zouk, a.k.a the main room. Though it's smaller than before but it's layout is much more spacious than previously. The dance floor is still there and it had an upper floor, which has another bar up there.
Phuture. It sounds like one of the games I used to play, BioShock – game was set in the underwater city called The Rapture. Anyways, back to topic. It has the R&B and the Hip Hop culture written all over. Green neon lights illuminating the walls. Some what reminds me of the Fast and the Furious cars with green neon lights, pumping the air with R&B and Hip hop music.
For that opening night, DJ Goldfish was spinning the tracks. Wootsie!
Similar to the Zouk room, it also has an upper floor. I believe Phuture used to be part of the old Zouk's main room, but I think it's now put into better use of the space.
Psst, there's a hidden door between Zouk <-> Phuture!
Next is the Velvet Underground. No change here, though I feel the music is kinda not my thing. Classic rainbow coloured people dancing in shorts kinda music. Mumbo Jumbo as the Royal says. The good ol wood dance floor is still there. Wonder whether Zouk will do a tap dancing event there. Hmm. Wonder wonder.
Aristo. The elites of the society. The cream of the crop. If you're a VIP, you're still not entitled to go in. You gotta be a VVIP! Aristo is basically a champagne bar, the room is shaped like a 'L'. This room was previously The Loft. It is now the Aristo, only the rich and famous, the elites. I was privileged enough to be able to check out the room and roam around.
The room gave me the impression that I was in a bottle of champagne. Room was champagne gold on black. Very nice atmosphere.
Barsonic. Well, that room is not open until this Saturday. Which I'll be going to check it out as well.
At the mean time, do check out this Facebook Page. If you're interested in getting into Barsonic, that's basically your ticket into Barsonic.
Lets talk about the event itself. I and the gang was around Zouk about 9PM. With the rain and all, KL is pretty much gridlocked. We queued up, trying to get our passes before it started to pour heavily, though it's already drizzling. The Grand Relaunching was supposed to start at 10PM, but with every Malaysian knows, it's always +-15 minutes.
I think it started about 10.10PM on my watch.
10.10 is a smiley, btw.
Just before the rain started to pour even more, Serena C, the emcee, started introducing the new rooms, and an re-opening ceremony by Zouk's upper management and directors.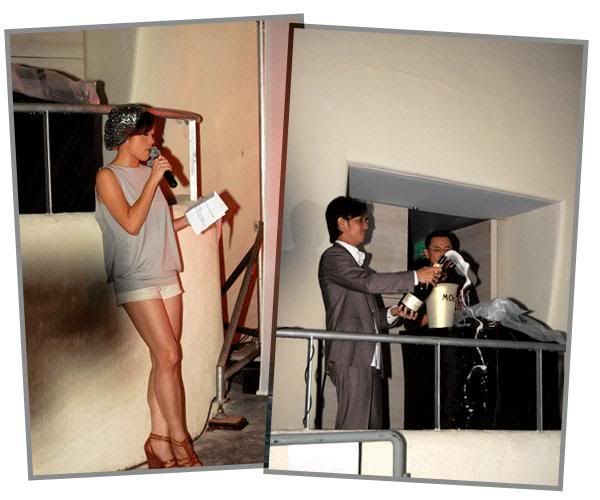 A short performance by a few dancers.
Me and the gang went around jumping from rooms to rooms checking each one out.
Thanks to KelLi, we had free drinks!
Unfortunately, I had something on the next day so I had to leave by 12..
It was quite a good event, and I'll be back there this weekend for the launch of Barsonic!
A big thanks to Zouk KL as well for the media passes! =)
Photo credits to Nigel, Royalshortness and Joshua Ong