Written on August 14, 2008 by CincauHangus
*a very cliche title*
What's my favourite computer game all time.
Lets start when I was young. I was first introduced to games when it was back at 1995 when Windows 95 was out.. My dad has this game in his office computer (for some reason..) that has 2 gorillas on each side, both separated with buildings in between. The objective was to kill the other gorilla by throwing your banana over the buildings and kill it. It was fun, enter angle and strength and press enter. Don't forget that back then there were no such thing as a graphic card. It was just a 2D game run in DOS.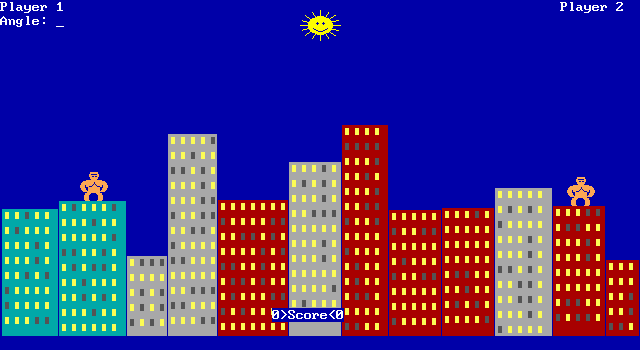 Had to run QBASIC and load the game. It's a interpreter for the MS BASIC, which is now has evolved into Visual Basic, if you didn't know. It's a programming language and tool for us to create programs.
Moving on. The next game that got me hooked on my own computer back then was Command & Conquer Red Alert. The very first version of Red Alert. Me and a primary school pal, we would always created a network and played a co-op or an one-on-one game with each other. It was 1996/97. The birth of the Internet. We were running on a 28.8kbps modem back then. It wasn't as easy as now, as long you're on the net, you can join a network and play. Back then we had to dial each other's house number, connect directly via our 'very fast' modems then.
I still remember the good ol sound that the modem makes when connecting to the Internet.
Those born in the broadband and wireless age surely haven't heard that sound before.
Now back to the present.
Occasionally I'd play the C&C franchise again but I find myself not into those games anymore, instead I'm very much into First Person Shooters. CS is one of the examples. But that's not my Favourite Computer Game of All Time.
My favourite computer game of all time is Call of Duty 4: Modern Warfare.
I was pretty skeptical on trying out a new game but this game turned everything around when my uni mates were busy playing COD4 during break hours. I was hooked just by watching them play. COD4 is the best online multiplayer combat game as well, another reason that I love it even more.
I'm not a gaming addict but occationally I'll play multiplayer games with friends when the opportunity comes. I prefer sharing moments with friends even with games, so I'm not really a fan of single player games. Even when I play them, I play them with my friends around, as a way to show off share funny moments of gaming together.
They are even annoyed with my war cry, which I do every time I die tragically (by a rogue bomb or some stray shot). Or usually for every time I die, I'll say this:
I entered my first COD4 tournament in July at my uni's ICCG (Inter College Cyber Games). Our team was named as 123, thanks to the team leader's laziness to think of a better name.
I had little expectations because I expected to lose the first match. Luckily for us, the first team we played against weren't that good and we 'sapu-ed' the opponent with 750-200 points in a team deathmatch game.
In the semifinals, we played against a very skilled team and we lost 0-250 points. Humiliated to the max, but still with little expectations in the beginning, we are now in contension for the 3rd place. At least some money back eh?
So what happened during the 3rd placing match? It was the 7th game in match. We and the opponent are evenly skilled but we were behind by 2-3. Lets fast forward into the game till the opponent had only one player left while on my team all died except for me.
Imagine this, I was full on hunting down the opponent and finally tracked him to an abandoned house. He was hiding inside the house at a corner. I threw a frag grenade into the house through a window.
My face was already brimming with confidence. "CONFIRM LAH YOU'LL DIE!" was all in my thoughts. I charged through the door.
All my team mates were spectating me while I charged into the house, while the opponent looked very serious. They must be thinking, "Shit, we are in deep trouble".
Now turn back the time just 2 seconds earlier and imagine as the grenade goes through the window, but instead of going through the hall of the house, it bounced off a wall and ended up behind the door. The same door I was about to barge in.
My face was still brimming with confidence while my team mates was about to throw confetti above me to celebrate the win.
The moment I went in, I saw a black round thing just in front of me. Before I could say anything…
I died.
My own grenade exploded right in front of me.
My team and I was laughing real hard while the opponents were wondering what happened. Even the marshalls were laughing behind us. The opponent scores a point because I misthrow the grenade.
On the next round, the opponent also did a similar thing but instead of walking into his own grenade, the grenade didn't make it through the house but bounced off the wall and exploded right above him. I guess everyone makes funny mistakes every now and then.
We eventually won the match and achieved 3rd place. We won RM200 and a mouse each.
Because I was the shortest, I had to stand in the middle to take this photo:
So, my favourite computer game of all time is Call of Duty 4: Modern Warfare. What is yours?
This post is an entry to Nuffnang & Samsung WCG Contest. Check it out to win prizes!